Back
First public display of historical photos on Hong Kong's major infrastructure projects between 1972 to 1988
21 Mar 2018
Historical photos taken between 1972 and 1988 by Heather Coulson, a leading construction and architectural photographer, about Hong Kong's major infrastructure projects including the Cross Harbour Tunnel, Mass Transit Railway, Castle Peak Power Station, Plover Cove Water Reservoir, will be on display for the first time at the City Gallery from March 24 to May 16, 2018.
Exhibition: Infrastructure Imagination: Hong Kong City Futures, 1972-1988 is organised by the Division of Landscape Architecture of the University of Hong Kong (HKU) based on photographs drawn from the Heather Coulson Photograph Collection, generously donated to the HKU Libraries by Heather Coulson.
Heather will meet the media on March 23 (Friday) at the City Gallery for a preview of the photos and interesting stories about them. Heather's husband, Colin Coulson, a civil engineer responsible for many prominent Hong Kong infrastructures including the MTR, will offer first-hand accounts of how the projects came together.
After residing in Hong Kong with her husband in the 1970s, Heather was commissioned to undertake many prestigious infrastructure projects, during the important period when Hong Kong saw the construction of major infrastructure projects that marked the city's urban transformation.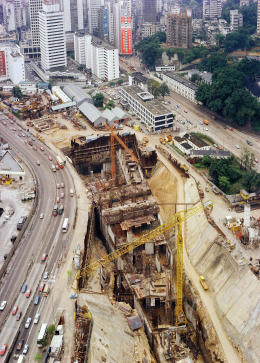 The infrastructure expansions in this period are significant not only in their unprecedented scales and complexities, but also in their utopian undertones, grounded on a burgeoning optimism of economic and social progress. The design and construction of these megaprojects drew substantial technology transfers and attracted global expertise to overcome the technical challenges of building on Hong Kong's difficult terrain. The arrival of new infrastructure systems in this period also facilitated major transformation of the urban landscape, generating new collective experiences for Hong Kong citizens and reshaping everyday urban life.
The exhibition is divided into four sections: 1) Mass Transit Railway, 2) Highways and Tunnels, 3) Electricity Networks, and 4) Water Works. Each section consists of displays of large-format photographs as well as scaled drawings that illustrate the physical configurations of selected projects. These are supplemented with video footage and archival records that document the construction boom in Hong Kong in the 1970s and 1980s.
Interview with Heather Coulson and exhibition preview
Date: March 23, 2018 (Friday)
Time: 1pm
Venue: City Gallery, 3 Edinburgh Place, Central
(Exhibition opening ceremony at 6pm)
Please publish the story on March 26 (Monday)
Exhibition: Infrastructure Imagination: Hong Kong City Futures, 1972-1988
Period: March 24 to May 16, 2018
Venue: City Gallery
10am - 6pm Daily (closed on Tuesdays, except May 1)
Public symposium
A half-day symposium in which several engineers and architects involved with infrastructure construction in Hong Kong will reflect on their experiences and share insights with the audience.
Date: March 24, 2018 (Saturday)
Time: 10 am to 1pm
Venue: City Gallery
Community workshop
A public forum in which members of the community are invited to discuss their memories of urban change and aspirations for the urban future.
Date: April 7, 2018 (Saturday)
Time: 10 am to 1 pm
Venue: City Gallery
Guided tours
During the exhibition period, guided tours for secondary school students will be organised with the goal to raise students' awareness of the history and significance of infrastructure in Hong Kong.
About Heather Coulson
Trained as an orthoptist, Heather did not take up photography until she came to Hong Kong with her husband in 1970. In 1972 she was commissioned to take the press release photographs for the opening of the first Cross Harbour Tunnel. Her reputation spread rapidly and for the next 16 years she photographed railway installations, road and bridge construction, water treatment, power stations and buildings. Her clients included China Light and Power, MTR Corporation, contractors, consulting engineers and architects. On returning to UK in 1988, she continued to photograph a wide range of infrastructure projects until 2008. Soon after the Iraqi occupation of Kuwait in 1991, she was commissioned by National Power to record the damage to the Power Station and the extensive burning oil fires up to the Iraqi border.
About Colin Coulson
Colin studied engineering science at Oxford University. Upon graduating he joined Freeman Fox and Partners, consulting engineers and worked on hydroelectric projects in Wales. Later he moved to the head office in London and was design engineer on the Cannon Street station improvement and development, including upgrading the underground station. In 1965 he was seconded to the World Bank to supervise power station construction in Malaya. In 1970 he moved to Hong Kong where he was made senior partner of Freeman Fox and Partners Far East. He was first involved with the completion of the Cross Harbour Tunnel. From 1972 to 1980 he was responsible for overall design of the Initial System of the Mass Transit Railway. He was a founding council member of the Hong Kong Association of Consulting Engineers, and later its chairman. In 1980 he moved to the Mouchel Consulting Group taking responsibility for the design of civil engineering and building works for Castle Peak B Station among other projects. In 1988 he returned to UK to join the main board of the Mouchel Group with responsibility for all overseas projects. In 1992 he took over as Executive Chairman of the group. He retired in 1999.

For media enquiries, please contact Ms Melanie Wan (Senior Manager (Media), Communications and Public Affairs Office) Tel: 2859 2600 email: melwkwan@hku.hk.