上一頁
UMAG receives two limited-edition prints from the Robert Rauschenberg Foundation: Ghada and Sayed from the series Our House is on Fire
An exploration of humanity through conflict (English only)
2016年03月23日
The University Museum and Art Gallery (UMAG) of the University of Hong Kong (HKU) has been selected by the Robert Rauschenberg Foundation (RRF) to receive a donation of two photographic prints by distinguished Iranian artist Shirin Neshat. These limited-edition prints will be on display at the Chi Wah Learning Commons from 23 March 2016.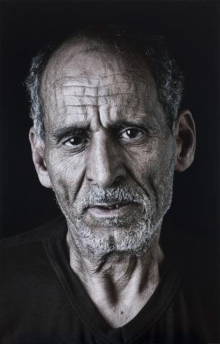 Ghada and Sayed, portraits of an Egyptian woman and man, are from Neshat's Our House is on Fire series, which was commissioned by the RRF in 2012 as part of their One-to-One initiative, in which contemporary artists create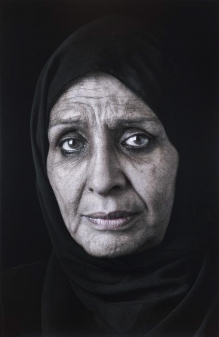 work in the service of human rights. In the series, Neshat investigates the universal experience of pain and mourning on national and personal levels as part of her exploration of Egypt's Arab Spring. In Egypt, the artist invited people to sit down in front of her camera and share their individual stories of loss. By photographing her subjects at such close range, Neshat creates a poignant connection between subject and viewer. She overlays the images with a nearly indecipherable veil of text, generated from poems written during the Iranian Revolution. The Persian calligraphy inscribed across the folds of each face mirrors the way in which a national calamity has become embedded in the personal history of each individual, while bringing into conversation the Arabic speaking Egyptian world and Neshat's Persian roots.
Born in Iran, as an artist and filmmaker, Neshat regularly explores the themes of gender, femininity, religion, and violence. Her work has been featured in numerous exhibitions at galleries and museums worldwide, including the Detroit Institute of Arts; Hamburger Bahnhof, Berlin; the Serpentine Gallery, London; and the Walker Art Center, Minneapolis. She has been the recipient of various awards such as the Golden Lion at the Venice Biennale (1999), the Dorothy and Lillian Gish Prize (2006), and the crystal Award at the World Economic Forum, Davos (2014). In 2009 she directed her first feature length film, Women Without Men, which received the Silver Lion for Best Direction at the Venice International Film Festival. Declared Artist of the Decade in 2010 by The Huffington Post, Neshat is represented by Gladstone Gallery, New York and Brussels.
Before departing for Egypt in 2012, Neshat's studio assistant, Larry Barnes, lost his 22-year-old daughter. His grief, combined with the levels of despair she found in Cairo, inspired Neshat to capture how people experience loss on both a personal and national level. By asking Egyptians that she met on the street to share stories from the Revolution as she photographed them, Neshat created a profound body of work that compels viewers to face another's pain. This experience was the inspiration for her series Our House is on Fire.
"Due to the recent events in Europe and the Middle East, we believe that it is more important than ever to engage in cross-cultural discussions," said Christy MacLear, executive director of the RRF. "Neshat's project embodies Rauschenberg's own belief that art could change the dialogue for challenging international issues."
Thirty-three top institutions were selected by the RRF through a competitive process. Each institution submitted a proposal for how they would incorporate the prints into their curriculum, daily life, and campus-wide events. Institutions are to utilise the portraits to foster challenging conversations on issues ranging from gender roles and inequality, to the effects of war and cross-cultural understanding.
UMAG Director Florian Knothe notes that "HKU has an international cohort of teaching staff and affiliated students who will be able to study the context of the artworks and their significance. These powerful images will generate discussions on political, religious and social topics. Likewise, we will be able to explore the artist's meaning and modes of engagement through the images."
Other institutions receiving the prints include: American University of Beirut, Brandeis University, Columbia University, Dartmouth University, Duke University, Harvard University, Johns Hopkins University, Massachusetts Institute of Technology, Princeton University, Rhode Island School of Design, Stanford University, Tufts University, University of California, Berkeley, University of Chicago, University of Michigan, University of Pennsylvania, University of Texas at Austin, University of Virginia, University of Washington, Vanderbilt University, Wesleyan University, and Yale University.
Details of the Exhibition
Period: March 23, 2016 (Wednesday)
Opening Hours:
09:30 – 18:00 daily
Closed on University and Public Holidays
Venue: 1/F, Chi Wah Learning Commons, Centennial Campus, HKU
Tel/Email: (852) 2241 5500 (General Enquiry) / museum@hku.hk
Admission: Free
Website: www.umag.hku.hk/en/

Connect with UMAG on social media:
Facebook: https://www.facebook.com/umag.hku
Instagram: #OurHouseOnFire
Twitter: https://twitter.com/UMAG_HKU
Weibo: http://goo.gl/J2aKyo
About the University Museum and Art Gallery of the University of Hong Kong (UMAG)
UMAG was founded in 1953 as the Fung Ping Shan Museum. It was originally established as the Fung Ping Shan Library in 1932 in honour of its benefactor. For more information on UMAG, click here.
About the Robert Rauschenberg Foundation
The Robert Rauschenberg Foundation fosters the legacy of the life, artistic practice, and activist philosophy of one of the most important artists of the 20th century. Through exhibitions, scholarship, grants, and a residency program, the Foundation furthers Rauschenberg's belief that art can change the world. For more information, please click here.
Media enquiries
UMAG Communications Officer Miss Elena Cheung, Tel: (852) 2241 5512, Email: elenac@hku.hk