Back
HKU Science, Mathematics, and Art (SMArt) Project 2016 at HKU
24 Jan 2016
During the past weekend (January 16 and 17), about 100 junior secondary school students from 40 secondary schools gathered to get SMArt about sugar art, pinhole photography, magnetic fluids, ceramic art, as well as fractal structure. The Science, Mathematics, and Art (SMArt) Project 2016, co-organised by the Faculty of Science of the University of Hong Kong and the Hong Kong Science and Technology Parks Corporation (HKSTP), was held with an aim to inspire more students to appreciate the intrinsic relationship between science, mathematics, technology, and art, through a series to interactive lectures and workshops. The programme consisted of two days, with the first day held at the HKU and the second day at the HKSTP.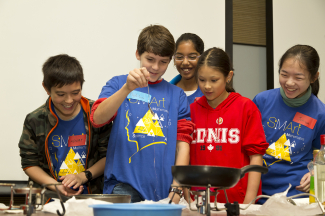 Day one was kicked off with four lectures by various HKU professors and lecturers. The lectures were followed by four different hands-on workshops, in which SMArt participants experienced actively how science, mathematics, technology and art are all inter-related. In one of the workshops, Mr. Terence Lee from Gitone Ltd. shared with the participants his expertise in making ceramics. He said: "I took science in secondary school as well. Ceramic art touches on a wide range of scientific knowledge. For example, a lot of chemicals are used in glaze testing. Many people would think pottery is only a form of art. In fact, we have to keep a scientific mind of curiosity and problem solving. Pottery, after all, involves knowledge of art, sicence and technology."

In another room, Mr. Stanley Ng and Ms. Ceci Liu from Studio de Dimension de Tofu showed a group of participants how to make pinhole cameras with recycled metal boxes. They said: "Our studio focuses on art education, and especially photography. Photography itself is a marriage of science and arts. It involves a lot of scientific knowledge and principles, such as optics in physics in photo taking and chemical reactions in photo developing." Students ran in and out of the lab to take photos on HKU campus. They developed the photos by themselves in a makeshift dark room, making use of a mixture of chemicals. Cherrie from Diocesan Girls' School said: "I joined this programme because it looked pretty interesting. We don't usually get to do things like this in school. We are learning to do new things. Right now we're making a pinhole camera, which is fun."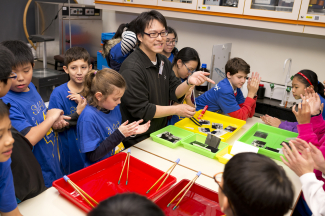 On day two, all participants joined forces at the HKSTP for a grand finale: after learning about the mathematics concept of fractals, the SMArties worked together to create a giant model of a Sierpinski tetrahedron out of balloons.

At the closing ceremony, every participant received a certificate for taking part in the programme presented jointly by Dr. Benny Ng, SMArt project director at HKU, and Ms. Maria Lam, the Chief Marketing Officer of HKSTP. Dr. Ng was also honoured to co-organise the event with the HKSTP, to further promote scientific and technological literacy to everyone in Hong Kong. He said: "Science, Mathematics and Art are not different compartments, but inter-connected with one another. For example, fractal is one of the important missing pieces in modern science. Today, we make the largest fractal balloon structure in Hong Kong. This is one way using art to understand and illustrate the scientific and mathematical principles." Ms. Maria Lam said: "We are truly delighted to see how the young students are having such a great time learning, and working together to build the fractal pyramid. We sincerely hope that more young people will be interested to further study and develop their future career in innovation and technology that will make a strong impact to society."
Selected artworks created by the participants will be showcased at a series of exhibition venues, such as MTR Central station, Hong Kong Cultural Centre, HKSTP, InnoCentre, HKU and various schools. Selected artworks, in particular, will be on display at the MTR Central Station from March 1 to 31, 2016.
For more information about the SMArt programme, please visit website: www.scifac.hku.hk/smart/.
For enquiries about the project, please contact Dr. Benny Ng at Phone: 5410 3822 / 3917 4594 E-mail: ngbenny@hku.hk.